X-Ray recycling - Types of recyclable film
We collect all types of x-rays for recycling and silver recovery purposes we pay for the silver recovered from the x-rays.
Our x-ray recycling program includes a free pick-up of x-ray film anywhere in the US and a certificate of destruction is provided, our x-ray recycling process is earth friendly, our company is registered with the EPA. Call us for a free pick-up 877-217-7020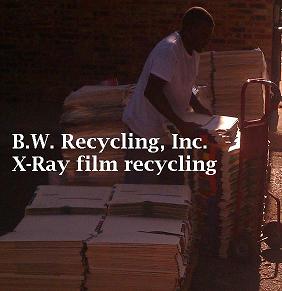 We take all kinds x-rays for recycling such as:
Medical x-ray film.
Here is a small list which describes the types of x-ray film we recycle, please note that this list is not limited and there might be additional types of x-rays which is not listed here but we still take for recycling, if you have any type of x-ray film that is not on listed here please let us know by calling us or just fill out the form to the right.
BMX film, CMS film, Dry view, Dental x-rays, Spinal x-ray film.
Learn more about Medical x-ray recycling
Lithographic x-ray film.
This type of film is usually used in the newspaper and printing industry, most common use of the lithographic film is negatives but also used as positive film.
Recycling of negatives from a photo offset printing process.
Learn more about lithographic film recycling.
Industrial x-ray film.
NDE film - Iridium 192, cobalt-60 these films used for testing welds, piping, pressure vessels, pipeline, aerospace.
Industrial x-rays - Industrial film type such as Kodak Industrex, Indux, Fomadux or Fujifilm.
Learn more about industrial x-ray recycling
Please note, we recycle all types of radiography film, if you have any x-rays you would like to have recycled which are not listed here, please let us know.
Learn more about our silver recovery process.
For more x-ray film recycling questions go to our frequently asked questions about recycling x-rays page.